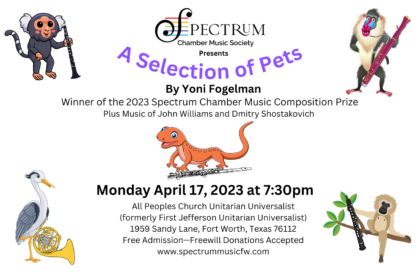 A SELECTION OF PETS by Yoni Fogelman
Winner, 2023 Spectrum Chamber Music Composition Prize
Monday April 17, 2023 at 7:30pm
All Peoples Church Unitarian Universalist
1959 Sandy Lane, Fort Worth, Texas 76112
Free Admission—Freewill Donations Accepted
Free post-concert meet-and-greet reception
Presenting the winner of the second annual Spectrum Chamber Music Composition Prize: A Selection of Pets by L.A. composer Yoni Fogelman! The piece, scored for wind quintet, was chosen out of many entries from all over the United States and beyond. As a special treat, Yoni will be at the concert to talk about his piece before it is performed.
Also on the program, we continue this season's theme featuring composers of both film and concert scores with perhaps the greatest film composer of all time: The incomparable John Williams. Although in the case of Simple Giftshe did not compose the original music (that honor goes to Aaron Copland), Williams used his immense talents to create this special arrangement for clarinet, violin, cello and piano that was performed at Barack Obama's second Presidential inauguration.
We end the concert with what many feel is among Dmitry Shostakovich's best quartets: his String Quartet No. 3. In fact, it was a favorite of the composer himself. It shows Shostakovich in his full powers as a chamber music composer, skillfully deploying the string quartet to express his utterly distinctive musical personality.
PROGRAM
Aaron Copland (arr. John Williams)—Simple Gifts
Gary Whitman, clarinet
Albert Yamamoto, violin
Laura Ospina, cello
Shields-Collins Bray, piano
Yoni Fogelman—A Selection of Pets
Pam Adams, flute
Tim Daniels, oboe
Ivan Petruzziello, clarinet
Samuel Watson, bassoon
Gerald Wood, horn
Dmitry Shostakovich—String Quartet No. 3 in F major, Op. 73
Albert Yamamoto and Marina Dichenko, violins
Dan Sigale, viola
Jason Mooney, cello